American Design Inc. has a complete in-house tooling facility to assist you with product design, prototyping and production.
Rapid tooling turn-around times can be accomplished depending on size and complexity of the job. Our tooling department can provide the following:
CNC Aluminum (Class A), Urethane and Wood Tooling
Cast Aluminum & Foundry Patterns
Routing and trim fixtures
Both Vacuum and Pressure Form Tooling, including male and female molds
Thermoformed Tooling Options:
WOOD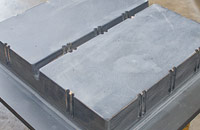 Cost of tooling: Low-Medium
Turn Around Time: 1-3 Weeks
Wood is an excellent medium for initial prototypical vacuum formed product. Wood tools are typically crafted from mahogany of jilutong hard woods and is an excellent means to prototype parts and determine the proper fit / form / function prior to investing in a more expensive and permanent tool.
Depending on the change, wood tooling is capable of being adjusted without having to retool. The main disadvantage to wood is it has a very low useful life and is typically only good for initial prototyping or very short, limited productions runs (<30). Wood cannot be heated for production unlike some other tools. Wood can also be used to make a master pattern for producing aluminum foundry tools at the time increased production is sought.
URETHANE / HIGH-TEMP FOAM BOARD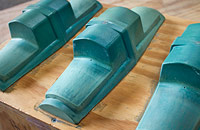 Cost of tooling: Medium
Turn Around Time: 3-4 Weeks
Urethane is an option for customers who want increased production runs but don't want to invest in an aluminum tool. Urethane tools are durable and can be utilized for short to medium production runs.
ALUMINUM / CAST ALUMINUM
Cost of tooling: High
Turn Around Time: 5-6 Weeks
Aluminum foundry tools are produced using a wood pattern master.