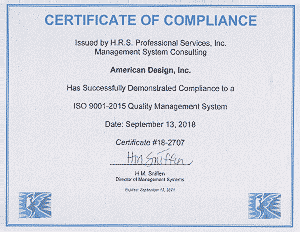 ISO Compliance Certified By:
HRS Professional Services, Inc.
American Design's quality policy is to produce products that meet or exceed customers requirements.
American Design Inc. compliments itself on true dedication to quality of our finished product and is committed to continuous improvement of the production processes. Since 1999 ADI has been committed to quality by implementing and continuing to maintain an ISO 9001-2015 quality assurance system. This system has greatly enhanced our ability to reduce in-house rejects, monitor performance and ensure customer satisfaction.
ADI currently operates an ISO 9001-2015 version quality system.
Some quick facts about the ADI quality system:
All employees are trained in the ISO 9001-2015 Quality System and have the authority to halt processes where they see quality is being impacted.
Formal Corrective and Preventive Action Program, designed to isolate, evaluate, find cause and monitor any rejects from in-house or customer.
Each product receives a thorough inspection before shipment to ensure overall quality and adherence to specifications.
Depending on customer specifications, individualized quality criteria, reports and statistics can be produced where required.
For more details on the ADI Quality System or to request a Quality Manual, please
contact us
.